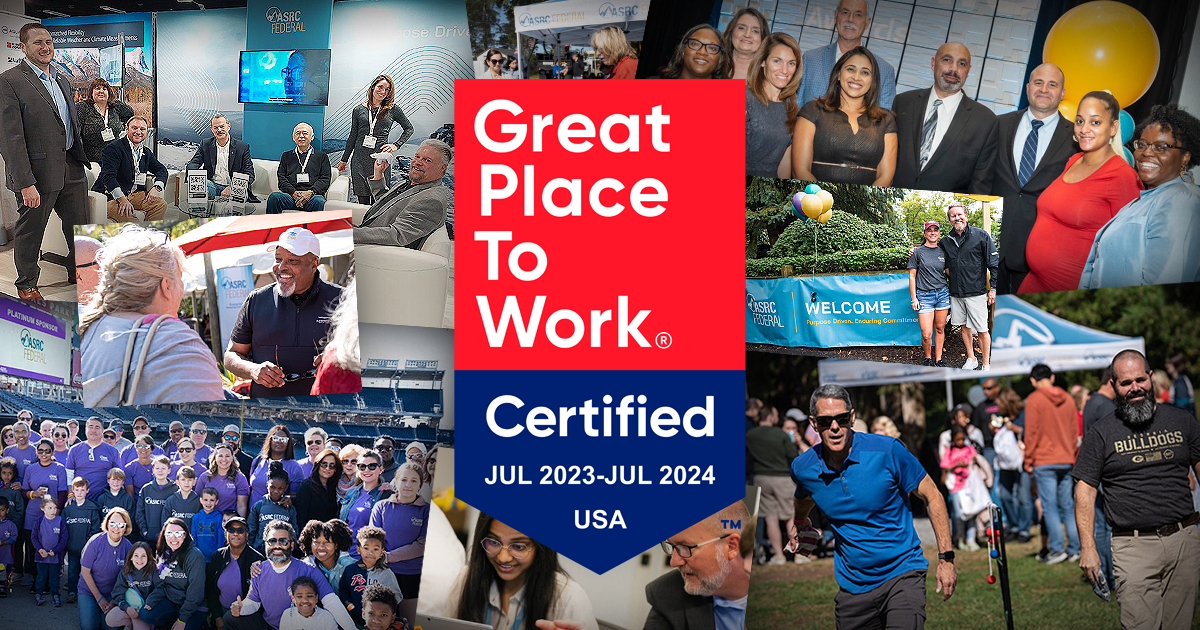 ASRC Federal received the Great Place to Work (GPTW) designation for the second year in a row.
In July, employees had a chance to participate in the GPTW survey to answer questions about our company culture and work environment. According to the responses, 87% of participating employees at ASRC Federal say it is a great place to work. For comparison, this rating is 57% for a typical U.S.-based company.
"We are continuously working to enhance our employee experience to foster an environment where people thrive and grow in their careers," said Jennifer Felix, President and CEO. "Our people are highly motivated by our purpose-driven mindset and initiatives like our DE&I Council and employee resource groups have proven to be important components of our culture, allowing our people to connect with colleagues and resources that benefit them in their professional journey."
Great Place to Work is the global authority on workplace culture, employee experience and leadership behaviors proven to deliver market-leading revenue, employee retention and increased innovation.
"Great Place to Work Certification is a highly coveted achievement that requires consistent and intentional dedication to the overall employee experience," says Sarah Lewis-Kulin, the Vice President of Global Recognition at Great Place To Work. She emphasizes that Certification is the sole official recognition earned by the real-time feedback of employees regarding their company culture. "By successfully earning this recognition, it is evident that ASRC Federal stands out as one of the top companies to work for, providing a great workplace environment for its employees."
According to Great Place To Work research, job seekers are 4.5 times more likely to find a great boss at a Certified great workplace. Additionally, employees at Certified workplaces are 93% more likely to look forward to coming to work, and are twice as likely to be paid fairly, earn a fair share of the company's profits and have a fair chance at promotion.
ASRC Federal is also a proud veteran employer. Earlier this year, the company earned the esteemed designation of 5 Star Employer by VETS Indexes for its support of veterans in our workforce, after being named Best for Vets and Top Veteran Employer in 2022.
ASRC Federal provides IT modernization, software applications and analytics, engineering solutions, critical infrastructure and base operations and professional services to more than 30 federal government agencies. Its employees work on critical national missions from space exploration to cyber defense to public health. The company is hiring for multiple positions across the country; with many providing remote/hybrid flexibility.
Visit https://www.asrcfederal.com/careers/ to view open opportunities and experience your future at this Great Place to Work.