About ASRC Federal
ASRC Federal's family of companies deliver successful mission outcomes and elevated performance for federal civilian, defense and intelligence agencies while building an enduring enterprise focused on customers, employees, and shareholders.
OUR PURPOSE
Federal agencies are driving automation, powered by modern technology architectures, for smarter processes and the ability to cross-collaborate more effectively to achieve their missions. ASRC Federal's mission is to help federal civilian, intelligence and defense agencies achieve successful outcomes and elevate their mission performance. We are dedicated to building an enduring enterprise that elevates our people, customers and shareholders.
OUR VALUES
Inspired by the Iñupiat culture, we embrace stewardship and the idea of using every resource effectively; teamwork when striving to achieve goals and building a collaborative environment; integrity in adhering to high moral principles and professional standards; respect in welcoming and regarding the differing opinions, experiences, rights and traditions of others as we build a diverse and inclusive workplace; accountability in that we meet our commitments and take responsibility for our results; and continuous improvement, always striving to make things better, raising the bar and staying humble.
Jennifer Felix
President and Chief Executive Officer
Cliff Greenblatt
Chief Legal Officer
Sanjay Sardar
Operating Group President
Civilian & Health
Greg Resutek
Chief Strategy & Growth Officer
Mike Teegardin
Chief Communications Officer
Jason Nichols
Operating Group President
Defense & Intel
Jon Taglieri
Chief Financial Officer
Elizabeth Malone
Chief Administrative Officer
Eric Velte
Chief Technology Officer
Shaveta Joshi
Chief Human Resources Officer
Scott Altman
Operating Group President
Space
Jennifer Felix

President and Chief Executive Officer
Jennifer Felix is ASRC Federal President and chief executive officer. Felix leads a family of companies that serve a diverse portfolio of federal government customers, with employees across the United States and overseas. She sets the vision and strategy for the business and is responsible for the financial performance and overall execution of the organization.
Felix joined ASRC Federal in 2019 as executive vice president and chief operating officer, overseeing all customer-facing organizations. In this role, she provided integral leadership in performing an enterprise-wide capabilities and market strategic review, to ensure clear alignment across ASRC Federal with growth opportunities in the market. Felix has more than 25 years of industry experience in finance, business operations, organizational change management, M&A due diligence, integration and strategy. Before ASRC Federal, she served in executive leadership positions for multiple companies in the government services market, including SAIC, Vencore Inc., General Dynamics and American Management Systems. There she developed a strong track record for building successful growth-oriented organizations with a focus on outstanding customer service.
Most recently, Felix served as senior vice president at SAIC where she led significant organizational and process changes as part of an integration of a $2 billion acquisition and the development of an updated strategic plan. Before SAIC, Felix was executive vice president and chief financial officer of Vencore, Inc. where she was responsible for many business functions including contracts, procurement, information technology and internal audit. Felix led Vencore through a period of significant growth resulting in the successful sale of the business in 2018 to form a newly created public company.
Felix was the recipient of the 2021 WashingtonExec's Chief Executive Officer Award, as well as the 2021 Northern Technology Council (NVTC) Tech 100 Executives and the 2018 NVTC Private Company CFO of the Year award. She was also selected as a Bronze Winner for the 2021 Stevie Award for Woman of the Year in the Business Services category. Additionally, Felix was recognized as a "Top 35 Exec to Watch" by WashingtonExec In 2022 and 2023.
Under Felix's leadership, ASRC Federal earned a 2022 Great Place to Work certification. The company was also deemed among the "Best for Vets" by Military Times and a "Top Veteran Employer" by Military.com in 2022.
Felix sits on the Board of Directors for the NVTC and is a member of the March of Dimes DMV Market Board. She is also a mentor for the American Corporate Partner's Veteran Mentorship program.
She holds a bachelor's degree in accounting from the University of Maryland, College Park and is a certified public accountant.
Greg Resutek

Chief Strategy & Growth Officer
Greg Resutek is ASRC Federal's chief strategy and growth officer. As the chief strategy and growth officer, Greg's responsibilities include oversight of company strategy, business development, chief technology office, and position-to-win organizations. In addition, he ensures the strategic plan and associated priorities are optimized for growth.
Greg has served in a variety of previous roles at ASRC Federal including chief financial officer and chief operating officer. He has over 36 years of experience in finance, business operations, operations, business development and sales.
Before joining ASRC Federal, Greg was vice president of business operations for URS Corporations $2.8 billion Federal Systems Division. At URS Corporations, he was responsible for business operations, strategic pricing and financial planning. Greg previously spent 17 years with Motorola's Federal Government Division as both a sales manager and an operations controller for a $750 million business unit.
When Greg is not working, he enjoys spending time at the beach with family and friends, golf and travel. One of his favorite quotes, by Harry S. Truman states, "It is amazing what you can accomplish if you don't care who gets the credit."
Greg has a bachelor's in finance from the University of Maryland and an MBA from the George Washington University. An avid supporter of community organizations, Greg recently served as Chairman for Special Olympics Maryland.
Jon Taglieri

Chief Financial Officer
Jon Taglieri is ASRC Federal's chief financial officer (CFO). As CFO, Jon's responsibilities include financial planning and reporting, corporate accounting and compliance, cash delivery, program control and pricing strategy.
Jon has more than 25 years of experience in senior finance roles for large federal and commercial services and solutions organizations. Before joining ASRC Federal, he led corporate and business finance operations for Booz Allen Hamilton. At Booz Allen Hamilton, he was responsible for corporate financial planning & analysis, capital deployment strategy and finance business operations. Jon previously spent 18 years at CSC/DXC in a variety of roles including CFO of a $3 billion European division and CFO of a $1.5 billion America's Managed Services business.
Jon lives in Virginia with his wife and five children. When Jon Is not working, he enjoys playing golf with his wife and traveling when he's not attending a sporting event for his children.
Jon has a bachelor's in business administration from Loyola University.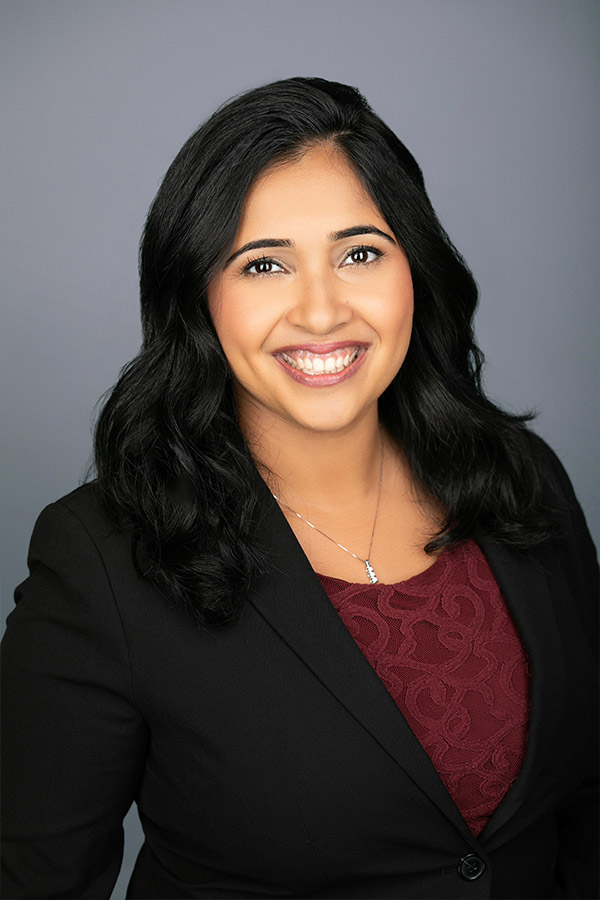 Shaveta Joshi

Chief Human Resources Officer
Shaveta Joshi is the Chief Human Resources Officer for ASRC Federal. In her role, Shaveta is responsible for leading HR strategy and a team of human resources professionals that support HR business operations, compensation, benefits, talent management, HR compliance and talent acquisition functions.
Before joining ASRC Federal, Shaveta held several leadership roles in HR, Operational Transformation and Strategy at Serco. In these roles, she transformed the organization by aligning the HR and business strategy to execute priorities for their stakeholders, leaders, program managers and employees. Her experience also includes leading efforts focused on financial performance, acquisition integration and organizational governance.
In 2023, Shaveta received the prestigious WashingtonExec Chief Officer Award for her outstanding work as Chief Human Resources Officer, building upon her recognition as a 2022 WashingtonExec Top HR Exec to Watch. Additionally, she became an official member of the Forbes Human Resources Council in 2022, through which she provides valuable insights for the HR community. As Chair for the March of Dimes' Greater Washington DC March for Babies, Shaveta demonstrates her commitment to making a positive impact.
Shaveta lives in Virginia with her husband, son and their dog. In her free time, she loves to read and travel. One of her passions is to mentor young female professionals by providing coaching to help advance their careers.
Shaveta received her bachelor's degree in science from George Mason University and her master's degree in business administration from Georgetown University. She also holds a certification for strategic leadership from the Said Business School, University of Oxford and is a certified employee benefits specialist (CEBS) accredited by the International Employee Benefit Foundation and Wharton School of Business.
Cliff Greenblatt

Chief Legal Officer
Cliff Greenblatt is ASRC Federal's chief legal officer. Cliff has responsibility for all legal matters for the ASRC Federal enterprise including compliance, government contracting, labor and employment, and mergers and acquisitions.
Cliff brings over 25 years legal experience in the government services industry in areas ranging from conducting sales transactions, handling and resolving litigation and disputes, to managing intellectual property and assuring company compliance with federal procurement laws and regulations. He has been responsible for the legal representation of companies specializing in diverse technologies including systems engineering and integration, cyber, data analytics, space and intelligence missions and operations, and public safety.
Before joining ASRC Federal, Cliff was vice president, general counsel and secretary for TASC, Inc. He served as an executive leader participating in company strategy planning and as a business partner with all levels of company management. He brings a successful history of handling and negotiating corporate transactions and mergers and acquisitions.
Outside of work, Cliff plays lead guitar in a classic rock band and has played at venues like the House of Blues in New Orleans, Louisiana and the Hard Rock Live in Orlando, Florida. Cliff also plays every summer at the Bethany Beach Bandstand in Delaware and several times a year at Jammin Java in Virginia. 
Cliff earned his bachelor's degree from the University of Michigan and has law degree from Washington College of Law, The American University.
Mike Teegardin

Chief Communications Officer
Mike Teegardin is ASRC Federal's chief communications officer. Mike is responsible for the development and direction of ASRC Federal's marketing and external communications initiatives, corporate branding strategies, philanthropy and community relations, and internal employee communications.
Mike has more than 20 years' experience in corporate, agency and government settings. His areas of expertise include strategic planning, brand management, executive engagement, community outreach, public and media relations, M&A, social media, crisis readiness and response, government relations, internal communications and change management.
Before joining ASRC Federal, Mike was vice president of Communications for BAE Systems – Intelligence and Security sector where he was responsible for developing and executing global marketing and communications. Before BAE Systems, Mike was an Account Director at Weber Shandwick public relations. He served in Operation Iraqi Freedom as an Intelligence Analyst for the United States Army.
Mike holds a bachelor's degree in political science from the University of South Dakota and a master's degree in communications from Purdue University.
Elizabeth Malone

Chief Administrative Officer
Elizabeth Malone is ASRC Federal's chief administrative officer (CAO). As the CAO, Elizabeth is responsible for leading the program management, quality assurance, facility operations, contracts, procurement, security and operational risk management functions at ASRC Federal.
Elizabeth has been at ASRC Federal for more than six years and has held numerous leadership roles focused on executing contracts, procurement and operational risk management strategy. She has over 25 years' experience in government contracting. Before joining ASRC Federal, she was vice president of contracts for two business units at URS with revenues exceeding $1 billion annually. Elizabeth enforced regulatory compliance and successfully led both contracts and subcontracts process initiatives to significantly improve business cycle times. In addition to contract administration, Elizabeth has supported the development of business alliances, acquisitions, divestitures and due diligence activities.
When she is not working, Elizabeth enjoys spending time cooking, reading and weekend drives to the Virginia vineyards. Her favorite quote by Eleanor Roosevelt states, "You must do the thing you think you cannot do."
Elizabeth has a Bachelor of Science in business administration from the University of Massachusetts and a master's certificate in government contract management from Villanova University.
Jason Nichols

Operating Group President Defense & Intel
Jason Nichols is president of ASRC Federal's Defense & Intel operating group, a nearly 3,000 person business providing a variety of mission-focused services including software engineering, applications & analytics, digital operations & IT modernization, high performance computing and infrastructure support to DoD and classified clients. In this role, Jason provides strategic direction, operational oversight and drives growth for the group.
During his tenure with ASRC Federal, Jason served in a variety of roles including the prior Infrastructure Support and Professional Services (ISPS) operating group president and senior vice president, Corporate Business Development where he led efforts to drive business growth, account management and strategy for the enterprise. Jason also supported the prior ISPS group from 2014 to 2018 as vice president of Business Development and was instrumental to the operating group's expansion into new customers and markets. Before joining ASRC Federal in 2014, Jason spent more than 15 years with Lockheed Martin serving in a variety of Business Development leadership capacities for multiple lines of business spanning federal civilian and DoD.
In 2019, Jason served as ASRC Federal's representative on the American Heart Association's Executive Leadership Team. Jason is also actively involved in American Corporate Partners (ACP), a national nonprofit organization focused on helping returning veterans and active duty spouses find their next careers through one-on-one mentoring and networking.
When he's not working, Jason enjoys spending time with his family, boating and playing golf. One of Jason's favorite quotes, by Michael Jordan is, "Earn your leadership every day."
Jason holds a bachelor's degree in marketing from Clemson University.
Sanjay Sardar

Operating Group President Civilian & Health
Sanjay Sardar is the president of the Civilian and Health operating group at ASRC Federal.
Bringing decades of experience in the federal civilian and health markets, Sanjay provides strategic leadership and programmatic and technical oversight for the operating group, which focuses on delivering mission-enabling information technology, data analytics and business solutions to federal government customers.
Prior to ASRC Federal, he served in several executive leadership roles at SAIC, including leading a business unit within the company's federal civilian portfolio, a strategic product innovation team and a service delivery organization. Sanjay has deep expertise in delivering digital transformation and IT modernization solutions that advance customer missions while driving operating group growth.
Sanjay also previously worked as the chief information officer for the Federal Energy Regulatory Commission (FERC). In this senior executive service role, he was responsible for strategic management and operational oversight of FERC's IT goals and initiatives. In addition, Sanjay also served in leadership and technical positions at General Dynamics, DDLabs Inc. and Oracle.
Sanjay serves as a champion for the American Heart Association and Leukemia & Lymphoma Society and holds leadership positions for industry organizations such as AFCEA, Affirm, Government Business Executive Forum and ACT-IAC.
When he's not working, Sanjay enjoys cooking, music, biking, reading and traveling. He lives in Fairfax, VA with his wife and two kids.
A lifelong learner at heart, Sanjay has a bachelor's degree in electrical engineering from University of Virginia, a Master of Business Administration (MBA) from The George Washington University School of Business and is pursuing executive education in strategic management in leadership from MIT Sloan School of Management.
Scott Altman

Operating Group President Space
Scott Altman is the president of the Space operating group for ASRC Federal. Scott is responsible for the group's financial and technical performance, providing leadership in setting and executing operating plans and delivering on commitments to NASA, NOAA and Federal Aviation Administration customers.
Before joining the ASRC Federal family of companies in 2010, Scott had a distinguished career with NASA and the Navy. The former astronaut and 2018 astronaut Hall of Fame inductee, is a veteran of four space flights, logging over 51 days in space and commanded the final two servicing missions of the Hubble Space Telescope. Scott also logged more than 7,000 hours in over 40 types of aircrafts, but still considers flying the F-14D over Iraq as his peak aviation experience.
In his personal time, Scott supports a variety of STEM outreach events, from talks to schools and other organizations, to serving on the Board of the astronaut Scholarship Foundation. As an avid amateur historian, he also is on the Board of Tudor Place, a historical home in Georgetown with ties to George Washington's family.
Scott received his bachelor's degree from the University of Illinois and holds a master's degree in aeronautical engineering from the Naval Postgraduate School. Scott is a retired Navy captain.
Eric Velte

Chief Technology Officer
Eric Velte is ASRC Federal's chief technology officer (CTO). As the CTO, Eric is responsible for leading the development of capabilities and solutions in support of both new business and existing program growth goals, expanding our Centers of Excellence to increase collaboration and knowledge sharing across our enterprise, and building our presence through technical partnerships and engagement in our most sought-after markets.
With 25 years of experience in computer science and technical solutions, Eric has overseen the research, development and delivery of technical products and services for U.S. Navy contracts at Computer Sciences Corporation (CSC). He joined ASRC Federal in 2010 through the acquisition of Defense and Mission Solutions Engineering, a former subsidiary of CSC. Since joining ASRC Federal, Eric has led the development of technical solutions and roadmaps at both the operating group and enterprise levels. Recently, in addition to his Chief Architect duties, he led the efforts for the Infrastructure Applications and Services team responsible for delivering and maintaining more than 185 applications and 30 discrete systems for our NASA customer at Kennedy Space Center.
Eric lives in New Jersey and enjoys spending time with his wife and two college age children. He is an avid golfer and enjoys traveling and scuba diving.
Eric received his bachelor's degree in history from Ursinus College and his master's degree in computer science from Rowan University.
ASRC Federal actively supports the communities where our employees live and work. Our Corporate Responsibility is centered on the core pillars of individuals and families, the planet and communities. See how our company and its employees support initiatives with the U.S. Armed forces and their families, health awareness, STEAM initiatives and our ASRC shareholders.